Green Party Again Chooses Ken Pentel
(AP)
St. Paul
The
(Minesota) Green Party
, no longer a "major" party under Minnesota law, is relying on a couple of old hands to fill out its 2006 ticket.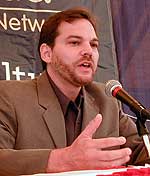 Ken Pentel for Governor of Minnesota
Environmental activist
Ken Pentel, the party's candidate for governor
in 1998 and 2002, is taking another shot at that office.
Dave Berger
, a social science professor at Inver Hills Community College, is making a second run for state auditor.
Dave Berger for state Auditor
The
(Minesota) Green Party
introduced its candidates Wednesday at the Capitol.
Michael Cavlan for U.S. Senate
Other office seekers are registered nurse
Michael Cavlan (issue (issue questionaire response ) for U.S. Senate
and blues-folk singer and guitarist
Papa John Kolstad for attorney general
.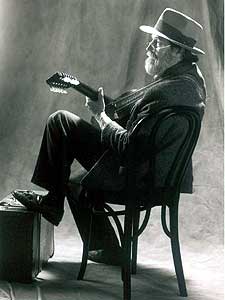 Papa John Kolstad for attorney general
(see more info below)
The Greens
were formerly considered a major party in Minnesota
, which entitled them to public campaign subsidies and automatic ballot access. Because of low vote totals among the party's statewide candidates in 2002 and 2004, the Greens lost the preferred status.
This year they'll be required to collect voter signatures on petitions to get on the ballot, and their candidates are not eligible for public campaign subsidies.
From Article: http://wcco.com/local/local_story_166104129.html
#####
Jay Pond, for US House of Representatives, Minnesota's 5th Congressional
#####
More on Papa John Kolstad's run for Attorney General
(snipped from http://pulsetc.com/article.php?sid=2514)
Kolstad, a musician and
music distributor
, received 69.2 percent in his endorsement bid for attorney general. His long experience as a small business owner makes him sensitive to the ways in which laws are enforced against "the little guy" but often not against the corporate giant. He has also been involved in the effort to replace employer-based health care with a single-payer system that covers everyone regardless of job status.
SNIP
Certainly the most surprising, and maybe the most promising, endorsement to come out of the Duluth Green Party Convention was the endorsement of
Papa John Kolstad for attorney general
. [In the interests of complete disclosure, I listened to Papa John in the 60s when he sang folk songs in coffeehouses, and I have danced to his hot jazz very recently. I am a fan and under his thrall. Kolstad is not an attorney. You don't have to be to run. Although it is unusual, non-attorneys have been elected to the post of Attorney General for the State of Minnesota. In what John called "musing between friends," he talked about the race and his qualifications.
"I have a lot of legal experience, and, as long as I don't have to use it, I should be OK." He explained that he was referring to Tim Pawlenty's $6,000 a month job as legal counsel for a firm lobbying the state when he was a member of the Legislature. Most observers considered the job a kickback for favorable legislation because Pawlenty never had to even issue a legal opinion let alone litigate.
Kolstad has done much of the legal work for his company, Mill City Records, and he is quite knowledgeable in the area of copywright law
, particularly as it pertains to music. He sees the job of attorney general as managing an office, similar to the work he's done running his business for the past 26 years, and directing litigation.
He speaks very favorably about Mike Hatch's work as a watchdog on the spending habits of the health care executives. He would continue that work. He's also concerned about large handouts to big developers. For instance, he says, former Minneapolis City Council Member Steve Minn got $32 million from the City to build the Stone Arch Apartments. The cost to build the apartments was only $24 million, and, today, the tax assessor says the property is only worth $19 million for tax purposes. Michael Lander, another developer, who built the housing and shops on the corner of Lake Street and the River Road, got $11.4 million in public money, and, today, the property is assessed for $1.6 million. Kolstad believes there's something wrong here. "It may be legal, but it' s not right. We should look into it," he said.
There are three major reasons why Kolstad is running:
First, Becky Lourey has said she would
bring the National Guard troops home from Iraq
. Kolstad would use the attorney general's office to assist her in that cause.
Second, as a
strong supporter of Single Payer Health Insurance
, Kolstad would continue the work Hatch has done in holding insurance company executives' feet to the fire. He would also fight any legal challenges to Single Payer waged by the insurance companies.
Third, he would use the attorney general's office to
fight on behalf of the environment
. If you are creating greenhouse gases by driving a gas guzzler, you should pay for it. He suspects collusion between coal companies and electric companies, and he' d like to investigate that. How can electric companies charge rate-payers to pay farmers not to use wind turbines to generate safe, renewable energy? He'd like to look into that.
SNIP
#####
RELATED BLOG DIARY ON MN GREEN CANDIDATES:
http://www.greencommons.org/node/239